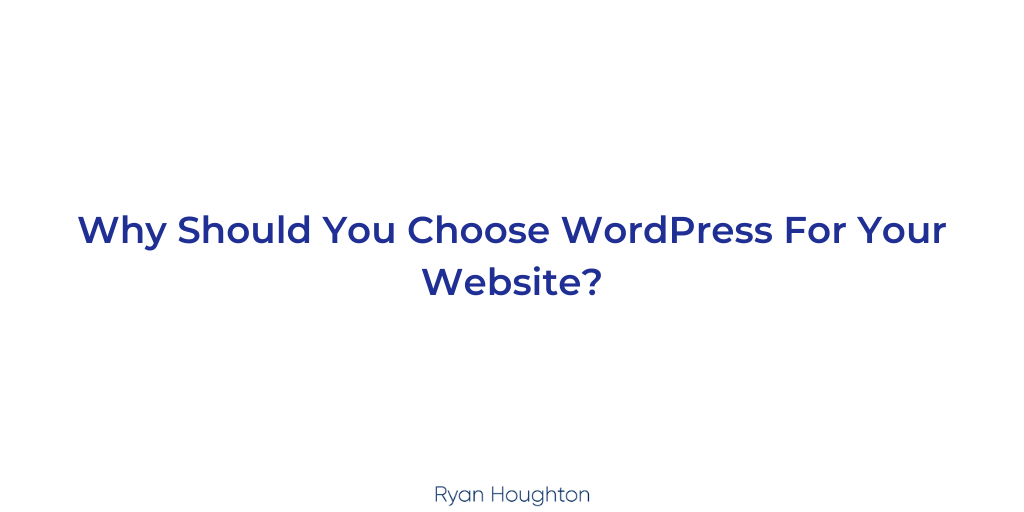 Across the Web, there must be hundreds of different platforms to build your website on, from Wix to Weebly, Squarespace to WordPress and sometimes deciding on which platform to use for your website can be rather difficult! A common question is "why should you choose WordPress?" and finding out why it can be just as difficult as deciding! They all come packed with some great features and some platforms are more flexible than others! Also, another big factor is the cost! With a lot of new and small business owners needing a website for their business, finding the cheapest but best website platform is often hard work. Below, you can find out some reasons and features that you can find within WordPress and why you should use it for your website!
So, what is WordPress?
WordPress is a free and open-source platform that is written in PHP. In much easier language, WordPress is one of the easiest blogging & Website CMS platforms to date. Packed with features such as the WordPress Dashboard, millions of websites online are powered and developed within WordPress.
You can use WordPress in three different ways. You can either Download the Files for WordPress and upload them to your host, Install WordPress through Softcalous on your CPanel hosting or you can Host your WordPress site within WordPress directly!
What can WordPress do?
WordPress is extremely flexible when it comes to what it can do. With plugins for pretty much everything available for WordPress, the possibilities are endless! If you want a simple blog, you can create it without even having to install a single plugin! If you want a full website, you can install plugins such as Divi & Elementor to build one with ease. If you want to SEO your website, you can use plugins such as Rank Math & Yoast SEO to edit Title & Meta Descriptions. The possibilities really are endless!
Why should you choose WordPress?
When it comes to building a website for your business, you need to choose a platform that is not only reliable but one that doesn't slow down your site or affect your SEO. This is why WordPress is a great choice because not only is it fast out of the box, but it is also extremely SEO Friendly!
Below, you can find out more about some of the features within WordPress and why you should choose WordPress when it comes to building your website!
The price of using WordPress (It's FREE!)
You can install WordPress to your host for FREE! This means that you are free to build your website free of charge! The only costs being Domain and Hosting which CPanel Hosting is much cheaper than paying for platforms such as Wix or Weebly!
You could have a WordPress Website online for just £1 a month! That's the cheapest that you can find!
The WordPress Dashboard
One of the best features of using WordPress has to be the Dashboard. Not only does the dashboard allow you to manage your website pages and blog posts, but it also displays important information such as when your plugins need updating and more. You can even use plugins such as GADWP to view your Google Analytics within your Dashboard!
From monitoring plugins to changing settings within your site, the WordPress Dashboard has to be one of the best features of WordPress and the feature that makes website maintenance a breeze!
Plugin Management & Settings
Another one of the best features of WordPress has to be the way that you can install and manage plugins for your website. WordPress's plugin system has to be one of the best when it comes to choosing a platform and as mentioned before, you can do pretty much anything with your website!
With plugins for Ecommerece, SEO, Caching and more, there really is a plugin to help with pretty much everything! A lot of other platforms such as Wix do allow you to insert plugins into your website, however, Wix contains very few plugins and it isn't as flexible as WordPress when it comes to additional features or new features that your site may have not had before!
Website Security
Out of the box, WordPress isn't as secure as perhaps most would expect, however with plugins such as WordFence and WPS Hide Login, you can transform the security of your website! With websites built out of Native HTML, they aren't as secure and you also don't have the ability to add plugins either, as it's been coded but with WordPress, you do!
This is something else that sets WordPress aside from other platforms as with platforms such as Wix & Weebly, you don't have the option to transform your security as you do with WordPress!
You can also add login limits & Google Captcha though Plugins, meaning you can make your website as secure as you want it to be!
Blogging and writing content
One of the biggest features of WordPress has to be blogging and writing content. With WordPress being designed for blogging, adding posts to your website through a blog is one of the easiest tasks to carry out! If all you want to create is a blog, you can create a full blog site without installing a single plugin!
Also with Plugins such as Rank Math, you can Optimise those posts for Search Engines, meaning that you can reach more people and expand your reach! WordPress comes SEO Friendly from install but you can further optimize those posts, meaning better rankings!
Alongside being able to add the actual content, you can also set categories and tags for your posts, meaning that you can separate your content across pages and let your visitors find specific content a lot easier! If you choose to add your blog to your WordPress site that you have built previously, you can find options within both Divi & Elementor to display your blog posts across pages that you have previously built!
Adding & Creating an online store
If you have created a website within WordPress or you want to open an online store, you can do exactly that through a plugin called WooCommerce! This plugin enables you to add an online store to your current website or if you pair it with a builder such as Divi or Elementor, you can create an online store to sell products to your visitors!
However, it doesn't stop there! WooCommerce also opens your WordPress website up to the world of Dropshipping! You can install an add-on for the WooCommerce plugin called WooDropship that allows you to add products to your store but connect those products with products listed on websites such as Ali Express!
And much more!
WordPress has a whole range of great features such as a comment management system, ability to add users and lots more, WordPress is absolutely the platform to choose when it comes to building a website for your business or brand! The possibilities are endless and you can create your website however you want! You can add an online store, a custom login panel through plugins such as Ultimate Membership Pro and much more!
So what are you waiting for? Install WordPress and get started today!
Need help with your WordPress website?
If you need help with your WordPress website, maybe you need a website building or perhaps you need your current WordPress website maintaining, you can get in touch with me today!
Ryan Houghton
Twitter – @ItsRyannH
Instagram – @RyannHInsta