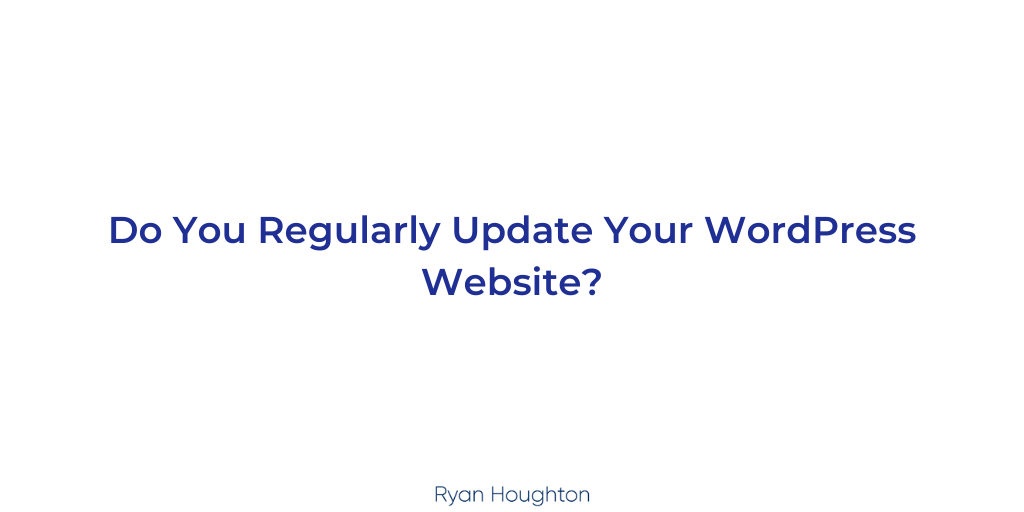 Updating your WordPress Website is essential. With many Websites & Blogs being hosted and developed using WordPress, a lot of website owners have had their website developed by a professional, but haven't touched their website for months or even years since the website went live. This means that your WordPress website will be outdated. Not many, it will be. This is because plugin developers release updates for plugins pretty much every 1-2 weeks and if you haven't updated your website and plugins since it went live all those months ago, your plugins will be out of date by several updates. In this post, you can find out more about the areas you need to update within your WordPress website and things you should be looking for when visiting your WordPress Dashboard.
Updating Your WordPress Version
With the recent release of WordPress 5.4, a lot of WordPress website owners still haven't updated their websites. This means that the fixes and changes within WordPress 5.4 are missing from a lot of WordPress websites. This is commonly down to the fact that a business owner has had a WordPress website built by a WordPress Website Developer, but they don't have their website regularly maintained by anybody, so this means that nobody is watching over the site and regularly updating it. However, you can update your own website in just a couple of clicks! It's extremely easy to do and it means that you can stay updated.
Updating WordPress
Below, you can find out more about updating your version of WordPress and how you can do it with ease to ensure that your website is up to date and working as it should!
When you log into your WordPress Dashboard through your WP-Admin link, you will come to your WordPress Dashboard. This is where you can find out a summary of information from your plugins such as your Site Visits with a Google Analytics plugin etc.
However, towards the top of your WordPress Dashboard, you may see a notification saying "WordPress 5.4 is Available! Please Update Now!". This means that you need to update your WordPress version as their is a new version to update to.
To update to this version, click on "Please Update Now".
When you click on "Please Update Now" you will come to this page. This is where you will go to update your WordPress Version. It is highly recommended that you take a backup of your website before proceeding with the update, this can be done with Updraft Plus, find out more about taking a backup here!
When you have taken a backup of your WordPress website, you want to come back to the update page and click "Update Now". This process may take a couple of seconds to a couple of minutes and for this duration, your website will go into maintenance mode, but it won't be long enough to effect your website visitors or browsing experience.
When you have pressed "Update Now" the installer will get to work with updating your WordPress website. You may notice that the page doesn't change but where the favicon usually shows, you will see a loading animation to indicate that it is updating!
After you have updated the site, you will be brought to a page which explains about the new version of WordPress. It looks something like this!
If you see the screen above, this means your update has been successful and that everything is complete! You can now go onto writing a blog post or even following this post to update your plugins!
Updating your site plugins
Updating your WordPress Version is essential, but so is updating your WordPress Plugins. A new version of WordPress is release every few months while plugin updates are usually released every week to two weeks. This means you need to be checking your WordPress site at least once a week to ensure that your website is up to date and working as usual. This checking process usually takes a couple of seconds and can be vital to the health of your website.
When you log into your WordPress Dashboard, on the left site you will see a list of different options, one of which will be plugins as shown above. If your Dashboard shows the plugins button with no number, this means you have no plugins to update! Your free to move onto another area of your site. However if your website does show a number in orange, this means you have a plugin to update. But again, this process is easy!
Click the plugins option and you will be taken to your WordPress Plugins page. This is where you can view your plugins and update the ones that need updating!
Look a plugin with the yellow notification below, this means you need to update this plugin! This is easy to do, just click "Update Now" and the updater will get to work to put you onto the latest version of that specific plugin!
Just one click and it will update for you, allowing you to be able to access the latest version of the plugin!
And that is it for plugins! Some website developers may have added features in code, meaning things such as caching and other features may have been done without a plugin, in this scenario, contact your website developer and ask to see if it needs updating at all!
Updating your site content
Keeping on top of your Website Content is also essential. This is because as you create blog posts and pages, you will add links within your posts to other websites or other pages. However, sometimes, the website that you have linked to has decided to delete the page or delete the blog post and this means your link points to nowhere, showing up as a broken link in an audit. This can damage SEO but it can also drive your traffic to a dead end page, meaning you could lost visitors and readers of your blog content!
While this doesn't happen as often as plugin updates, your website needs to be audited once a month at least. If you work with an agency or somebody for your Website SEO, this is all done for you as part of your strategy (usually!) but if not, you need to be getting an Audit done for your website.
Getting an audit done is often free and I provide audits for sites free of charge so if you would like to find out more about your broken links, just get in touch!
What if you don't have the time?
A lot of business owners may struggle to find the time to maintain and work on their website and that is absolutely fine! You can work with an agency or even myself to maintain your website for a small, monthly fee! This fee includes the updating of your WordPress, Plugin Updates and even content updates, should you decide to change something. Get in contact today to find out more!
Keep on top of your WordPress website
Using the points above, you can keep on top of your WordPress Website. This is essential to keeping your website visitors happy but also essential to keeping your website online! This can be done once a week and takes a few seconds but can power your website for months!
If you have any questions, just get in touch!
Other Blog Posts:
WHY SHOULD YOU CHOOSE WORDPRESS?
WELCOME TO MY WEBSITE